OPPORTUNITIES IN CONTAINER CONSTRUCTION
FUNCTION
The use of containers as a building material has grown in popularity over the past several years due to their aesthetic appeal, inherent strength, and relatively low expense to modify, Based on their proportion and flexibility in creating space, containers can easily take on a number of possible functions:
Food Approach:

Cafe or Bar
Indoor Break Area
Outdoor Food Court / Plaza
Amenity / Collaboration Zone

Interior Spaces:

Office
EBC or Conference Room
Showroom
Theater / All Hands
Day Care

Housing:

Permanent or temporary housing for employees / guests
Rentals for short-term or travelling visitors
COST AND CONSIDERATION
While container based construction offers many advantages in regards to both modifications and economics, there are many aspects that need to be considered when compiling an overall project and construction budget. The following is a brief list of considerations:
Specific site and building conditions
Overall design approach and details
Labor availability and rates
Maneuverability and access
Utility access and integration
Furnishings and finishes
Timing and Schedule
The items denoted above, as well as a number of other factors can effect the final costs of the project, however as a rough estimate shipping container based construction in the Northern California area ranges from approximately $80/sf to as much as $300/sf depending on use, finishes, logistics, etc. As a median approach, $150/sf is generally a good starting point for building a preliminary budget.
Changes in both labor and material costs for a location close to Atlanta, Georgia should inherently bring costs lower, however further research as well as conversations with both your team and local contractors will dictate where that figure may potentially land.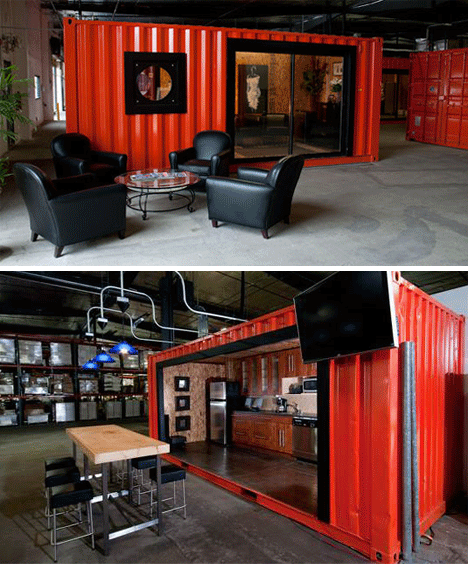 TIMING
Although the timing will vary depending on the final scope and details of the project, in our experience it can take approximately 4-8 weeks for design and documentation, about 2-8 weeks for permitting and pricing (depending on local jurisdiction and contractor bandwidth), and between 4 weeks to 3 months to build depending on weather, material lead times, labor availability as well as a number of other possible factors.
In short, the total project cost and timing can all be analyzed and assessed to find the best possible direction for your needs once the ideal scope and approach are determined.